6 Essential Songwriting Books On Melody
Melodies are the messaging highway of your song. They help maintain the interest of your listener (like scenery along the route), give your lyrics either winding winding road, super highway or country road to deliver the story, and much like a road system have turns, back tracking and sometimes a rush to the destination.
Writing unique, interesting melodies is tough.
Below or 6 essential songwriting books to help you hone your melody writing skills.
#1
Melody: How to Write Great Tunes by Rikky Rooksby (2004)
Easy to follow and use it will help you understand basic composition (melody & accompaniment) with examples from multiple genres.
#2
The Craft & Business of Songwriting by John Braheny (2006)
Covers the basics from defining a verse to gigging, but also  spends some quality time on rhyme.
#3
Melody in Songwriting: Tools and Techniques for Writing Hit Songs by Jack Perricone (2000)
From Berklee Press,  this book will walk you through the fundamentals and move all the way to chord progressions as accompaniment.
#4
Shortcuts to Hit Songwriting: 126 Proven Techniques for Writing Songs That Sell by Robin Frederick (2008)
General information on songwriting with a substantial section on melody writing.
#5
The Songwriter's Workshop: Melody by Jimmy Kachulis (2003)
From Berklee Press, Kachulis covers rhythm, melody over chord changes, song sections and melody over bass lines and riffs. Very thorough.
#6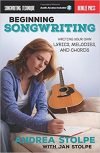 Beginning Songwriting: Writing Your Own Lyrics, Melodies & Chords by Andrea Stolpe (2015)
For those interested in some of the music theory behind composition, this book will give you the basics. It includes both classical and jazz examples.